Risks Status | Adding Risks | Updating Risks
---
What is a Risk?
A risk is an uncertain event that may or may not occur during a project or activity. Risks could have either a negative or a positive effect on progress towards delivering objectives. Where possible, actions should be undertaken to mitigate the risk.
---
Risks Status
This section is where the user can add and manage the risk log.
By using the dropdown field, the user can select the most appropriate overall status for the risks and provide any associated commentary. This information can be updated in real-time.
---
Adding Risks
Risks can be added to the project table via Actions > Add.

Risk information can be entered using the simple form containing dropdowns, text, date and user picker fields.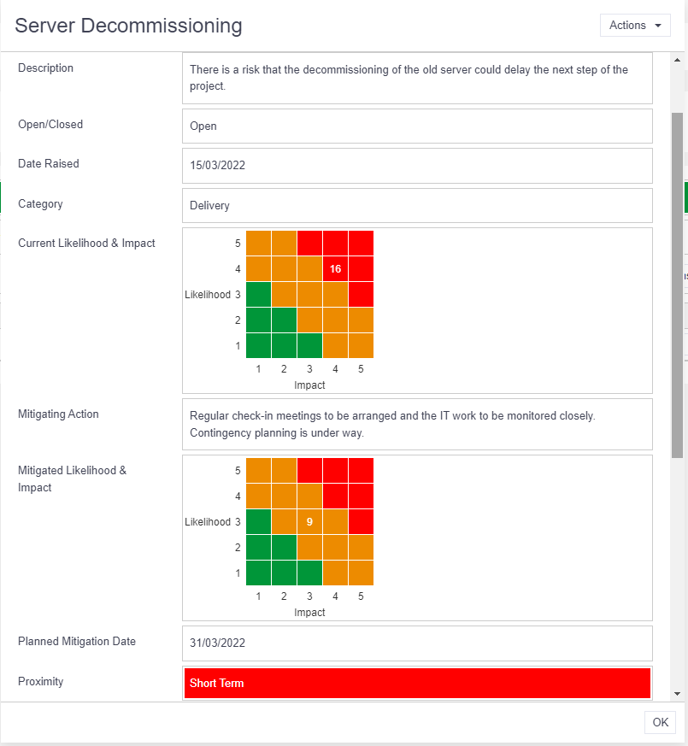 Anyone added as an Owner will receive a Verto notification and can set-up their own reminders for completion.
---
Updating Risks
Click on Edit against the individual risk to amend the information in the form.
The Updates area at the bottom of the form can also be used to record regular progress updates. Click Actions > Add to record a new update.
---
Remember
Owners must be added to the Project Team, otherwise they will not have permission to access the project or activity.
The layout of the project table can be changed to view the data in the Edit All view using Actions > Layout.
Click on the highlighted links to take a look at our Features section in the Knowledge Hub for more information on notifications, changing the project table layout and the other options visible in the menu.